"A design goal for BitScope Blade was to enable Raspberry Pi to be conveniently mounted to build compute clusters, cloud hosting platforms and even render or software build farms.BitScope Blade Pack 20, a Quattro Pi based cluster with Power & Mounting for Raspberry Pi.Since the release of the BCM2836 based Raspberry Pi Version 2 it has evolved to become a powerful single board computer.When teamed up with BitScope Blade it makes the ideal candidate as a node in a compute cluster.BitScope Blade solves the key power problem by providing high current voltage regulation right next to the Raspberry Pi."

See BitScope Blade Power & Mounting Solutions for Raspberry PiRaspberry Pi is a cheap and widely available DIYer or teaching ARMed single board computer. As such it has sold millions of units but is limited by RAM/computing power/networking. A partial solution to these limitations are boards which mount multiple Raspberry Pi as a cluster. BitScope even has 40-card units available. That's serious computing power for a lot less money than some more conventional solutions.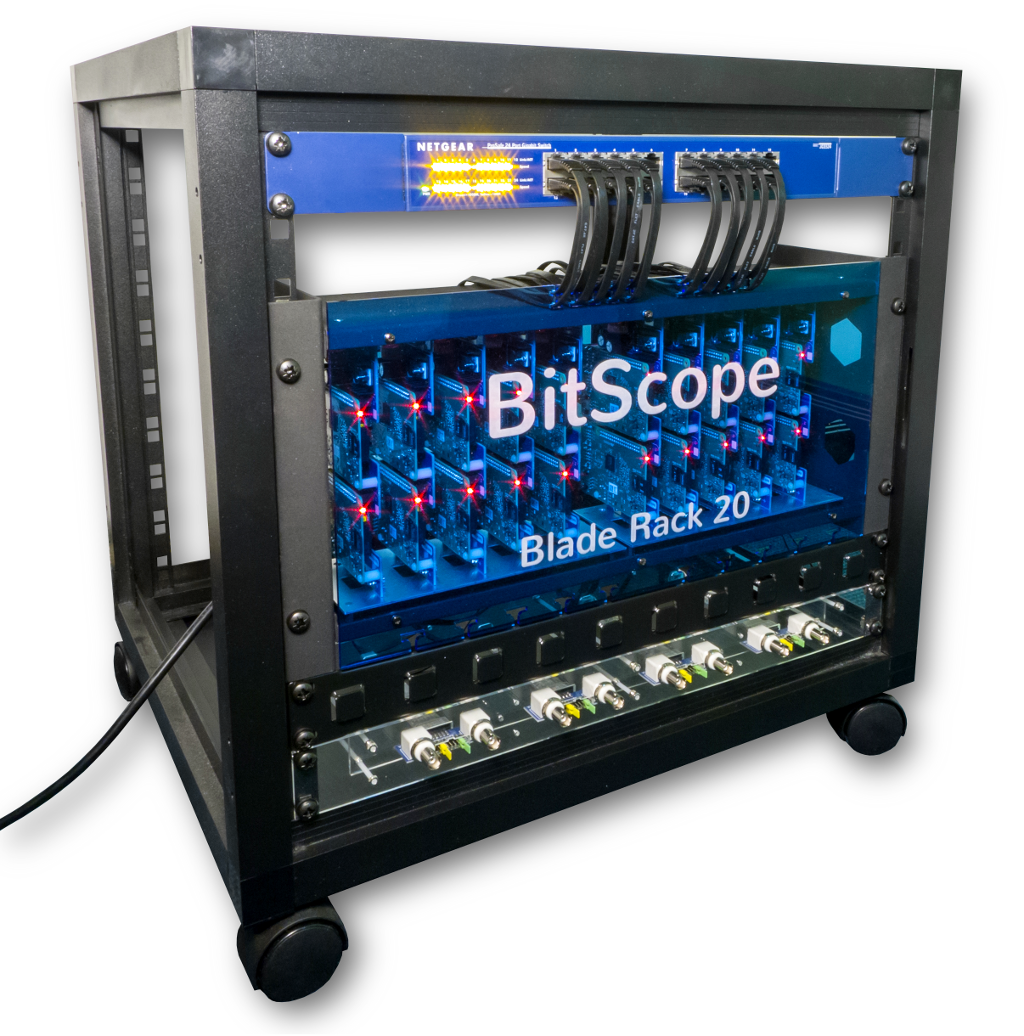 The 40-Rpi job costs $745.95 + 40X$35. This gives 10/100 Ethernet, 40gB RAM and 192 gHz-cores of computing power. That would be capable of a lot but would be a dog to configure in the usual way a desktop/server is configured. I would not be happy with the limited bandwidth of networking and storage bottle-neck (USB2). Most likely this would be useful for particularly narrowly defined computing tasks rather than general-purpose computing.
For example, one could distribute files/images of a static webpage over multiple servers and have them aggregated by a 10/100 to 1000mbit/s networking switch. Then it could serve nearly 40gB of stuff from RAM to gigabit/s LAN pretty swiftly. Similarly one could slice and dice a database to multiple devices to get parallelism but it wouldn't help much if the database would not fit in RAM because the networking is so slow. It could likely encode video frames fairly nicely again accepting a low limit on throughput compared to better hardware. It would definitely expose a student or class to some ideas about networking and distributed computing.
I wonder if it would work with Odroid-C2s, a better unit because of gigabit/s Ethernet, double the RAM and a few more gHz? Then there's the Odroid-XU4(USB3, 2gB, 1000mbits/s, 8 cores) which is much more powerful and definitely not compatible. Heck, I could still screw them down to a sheet of plywood… Hmmm… I think that works. 4 would do but I could use 6-8 to make Beast IV… It's good to have options.