Debian GNU/Linux releases "when it's ready" and things are looking good. Estimated days to go: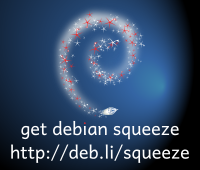 While the exclusion of things non-free from the installation media of the "Official" release may be an obstacle for some, there are workarounds at CDimages with non-free firmware. That's a relief to me because I love installations over the network and the non-free firmware blobs are essential unless I carry along some NICs just for installations or supply drivers on a separate medium. Many machines have e100 drivers for NICs and the firmware is distributable legally but closed source/non-free. Getting stuff from the web is not an option if the NIC is down. This is a problem that still needs work, not workarounds. A lot of controllers are ARMed. Perhaps the manufacturers could publish the source code that could be built in Debian GNU/Linux and other distros. Perhaps the manufacturers will rationalize their devices to eliminate this problem. As the proportion of GNU/Linux users rises this may evolve.
There's lots of great software in Squeeze. I just touch the tip of the iceberg with 1630 packages on this notebook out of 28K+ in the repository. Some of my favourites are LyX, LibreOffice, GIMP, InkScape, vlc, Dia and mplayer on the desktop and Apache, MySQL and PHP on the server. For making my own software I use vim, FreePascal and BASH usually. So much software. So little time.